Crispy, sweet and spicy chicken wings.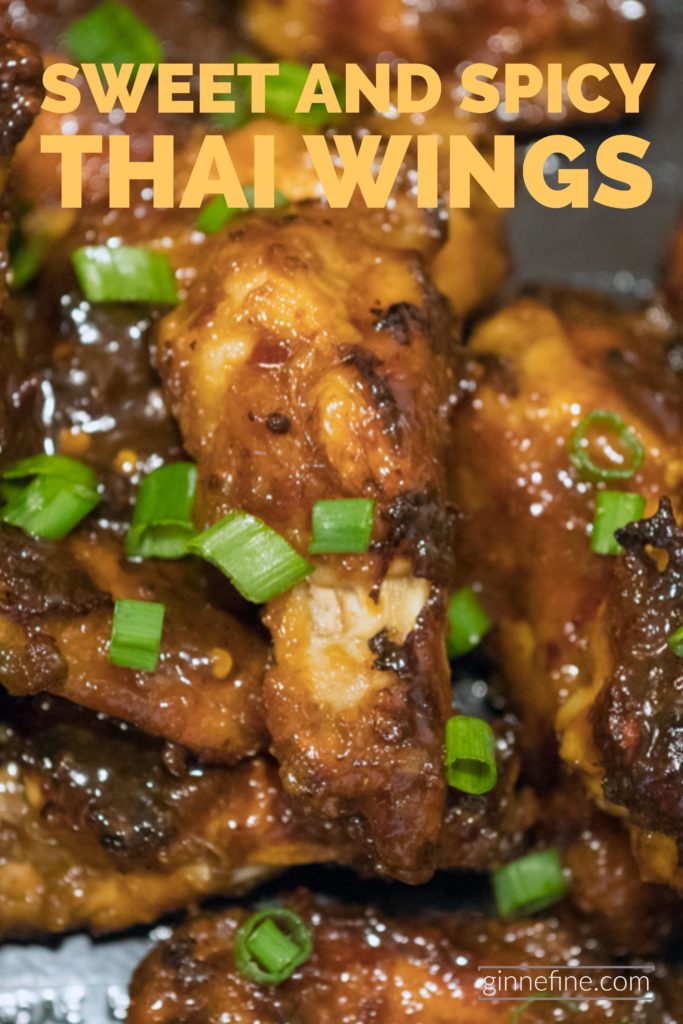 Sweet and Spicy Thai Wings
Just in time for game day, I have a sticky and crispy chicken wing recipe for you. This takes a fair amount of prep but nothing too tedious – it is definitely worth it.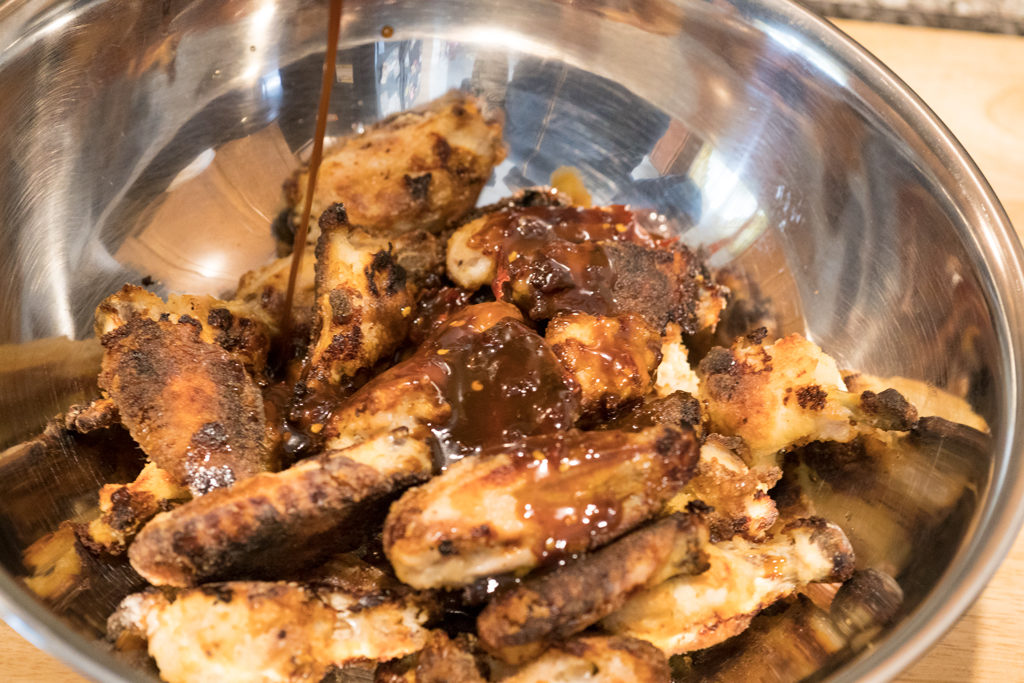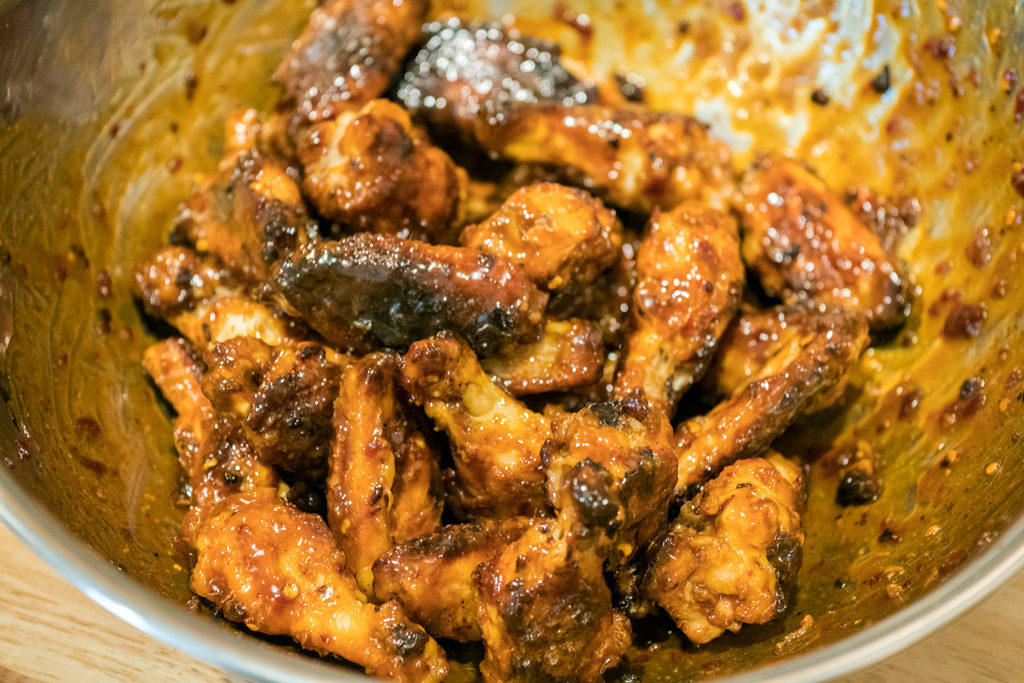 Recommendation: These silicone baking mats are the best. They make cleanup very easy and can withstand high heat (up to 480°). Also, they're nonstick, so no need for extra cooking spray.
Serving Suggestion:
These wings are delicious on their own but try them with fried or white rice.
Tips:
You can substitute palm sugar with brown or coconut sugar.
If using fresh dried chile, ginger and garlic an immersion blender can save you some prep time. Just add all glaze ingredients to the sauce pan, heat, and carefully blend thoroughly.
Prepare the wings any way you prefer (fry, air fry, grill, etc) and use the sweet and spicy Thai glaze as your toss-sauce.
Prepare your oven for the impending chicken fat splatter by lining it with aluminum foil. This will cut the chances of your fire alarm going off from burning grease and oil. Be careful and stay near while cooking.
Sweet and Spicy Thai Wings
Crispy, sweet and spicy chicken wings.
Ingredients
4lbs chicken wings (split into drummettes and wingettes)
1 quart buttermilk
1 tbsp kosher salt
4 tbsp rice flour
¼ cup less-sodium (low-sodium) soy sauce
¼ cup honey
¼ cup rice wine vinegar
2 tbsp fish sauce
1 tbsp dry chile pepper
½ tbsp peanut butter
½ tbsp palm sugar
½ tbsp ginger, minced
½ tsp toasted sesame oil
½ tsp white pepper
4 cloves garlic, minced
1 lime, halved
Scallions (garnish)
Cilantro (garnish)
Instructions
Clean chicken wings and place into resealable container or Ziploc to brine. Add kosher salt and buttermilk. Store in fridge for at least 6 hours; best if overnight.
Preheat oven to 425°.
Remove wings from brine, rinse and pat dry. Dredge wings thoroughly with rice flour and place onto baking sheet skin side up.
Bake for 20 minutes, flip each piece over then bake for an additional 20 minutes.
While wings are in the oven, mix soy sauce, honey, rice wine vinegar, fish sauce, dry chile pepper, peanut butter, brown sugar, minced ginger, minced garlic, toasted sesame oil, white pepper, and half of the juice from lime in a medium sauce pan on medium-low heat. The glaze should be cook low and slow until thickened; 10-15 minutes.
Remove wings from oven and allow to rest 5 minutes. Transfer wings to large mixing bowl, pour glaze and toss to thoroughly coat.
Garnish with scallions and cilantro (optional but highly recommend).
Serve immediately.
© Ginnefine | The Blog
Summary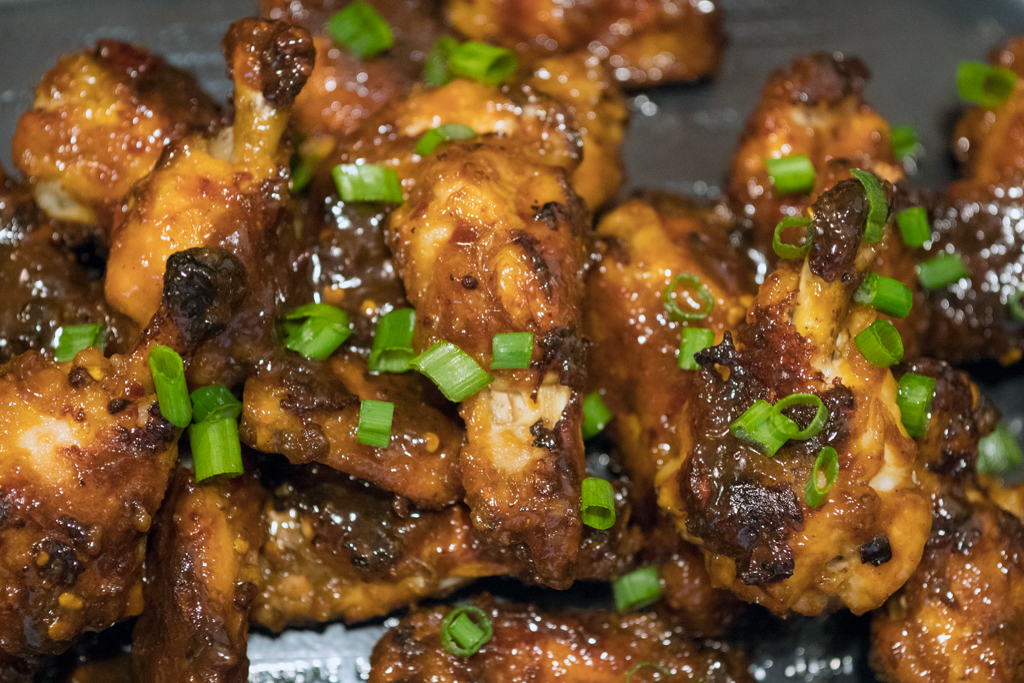 Recipe Name
Sweet and Spicy Thai Wings
Author Name
Published On
Preparation Time
Cook Time
Total Time
Average Rating





Based on 2 Review(s)