A cheesy, rich and indulgent soup.
Broccoli Cheddar Soup
Broccoli cheddar soup is by far one of my favorites. And to think, I used to pass it up all the time when I was younger. I missed out for all of those years! 😆 This soup is easy to make so you can enjoy it in no time.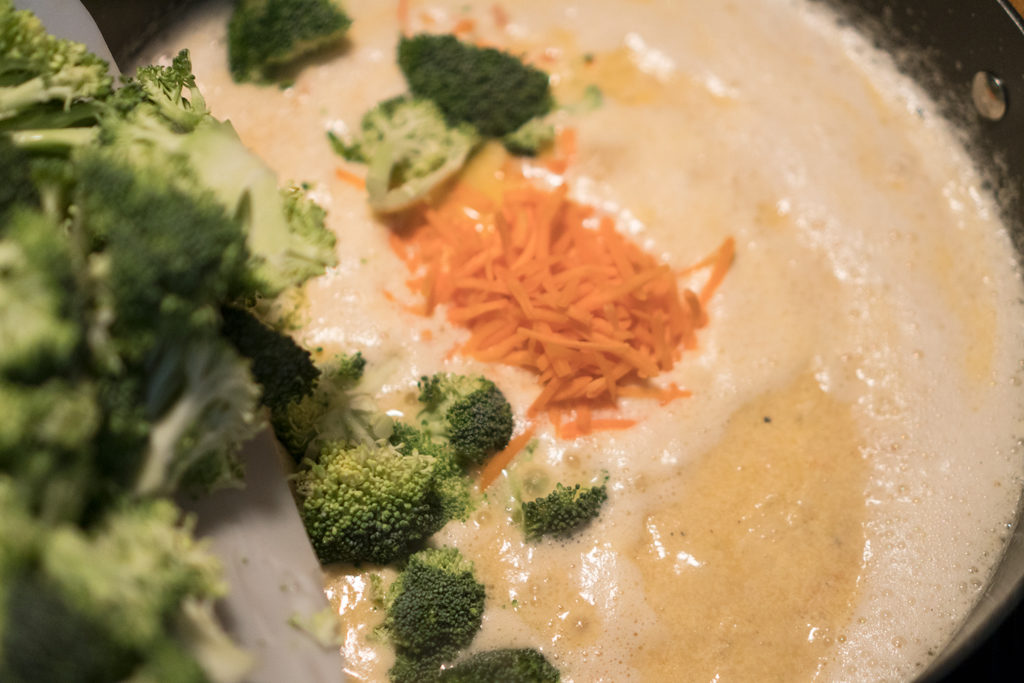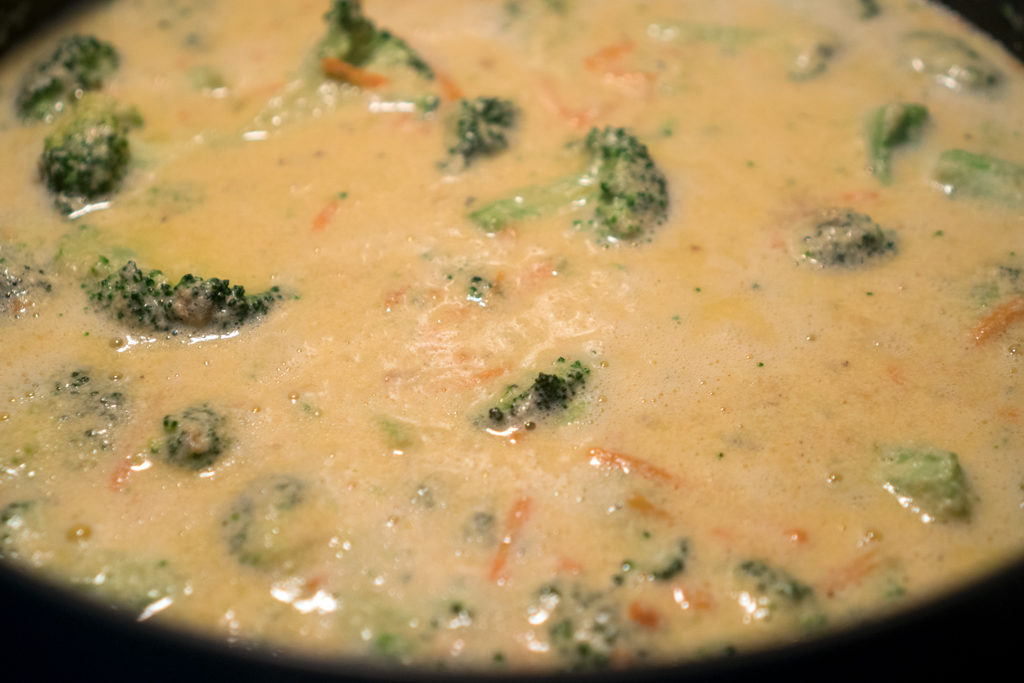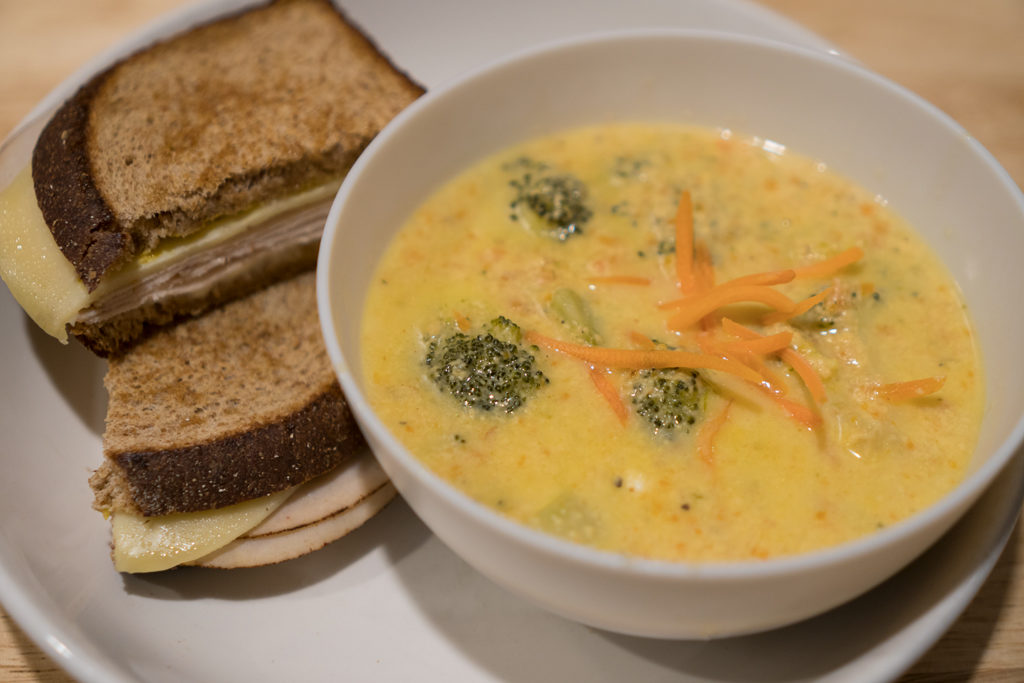 Recommendation: I use a Cuisinart Smart Stick. It is easy to use, clean and does a great job. This tool is extremely versatile and you will find yourself using it for a lot of tasks in the kitchen.
Serving Suggestion:
Your favorite sandwich on toasted bread; I had turkey and smoked gouda on wheat.
Tips:
Be sure not to bring mixture to a full boil before adding cheese. This will scold the cheese and create a grainy texture.
Use a good quality block cheese, as they do not have added preservatives to prevent sticking (like pre-shredded cheese). For this recipe, I used an extra sharp New York Cheddar.
Feel free to swap out chicken stock for vegetable stock for a vegetarian soup.
A cheesy, rich and indulgent soup.
Ingredients
3 cups broccoli florets (cut into bite-sized pieces)
4 cups chicken stock (low sodium)
2 cups whole milk
1 can (12 oz) evaporated milk
2 cups sharp cheddar (grated)
1 cup julienned (matchstick) carrots
1 celery stalk (diced)
½ cup onion (diced)
2 cloves garlic (minced)
4 tbsp butter (unsalted)
3 tbsp flour
½ tsp mustard powder
½ tsp paprika
Kosher salt, to taste
Cracked black pepper, to taste
Instructions
Melt butter in a large pot on medium-low heat. Add garlic, onion, and celery sauté until translucent – 2-3 minutes.
Whisk in flour to make roux. Once roux is blonde (off-white), whisk in (or use immersion blender) whole and evaporated milk. Continue to whisk until desired thickness is reached. Season with kosher salt and cracked black pepper.
Add chicken stock, whisking thoroughly. Do not bring to a boil. Season with kosher salt, cracked black pepper, paprika, and mustard powder.
Add broccoli, and carrots, allowing soup to simmer 15-20 minutes; stirring occasionally.
Puree soup with an immersion blender to desired consistency. Slowly mix in shredded cheddar cheese until thoroughly incorporated.
Serve immediately.
© Ginnefine | The Blog
Summary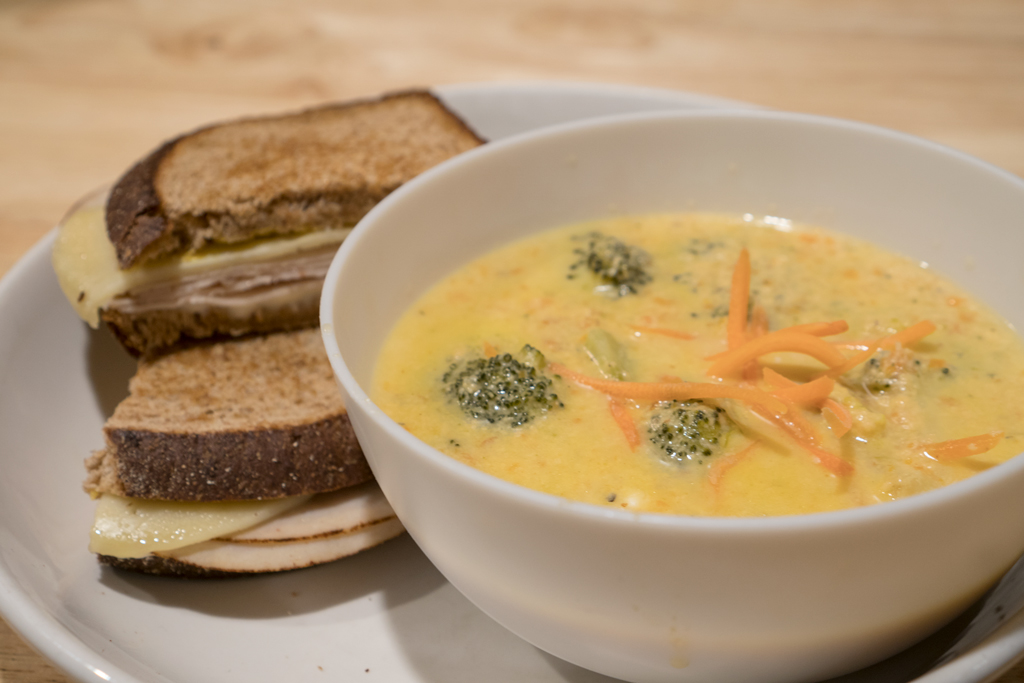 Recipe Name
Author Name
Published On
Preparation Time
Cook Time
Total Time