New month, another BIRCHBOX.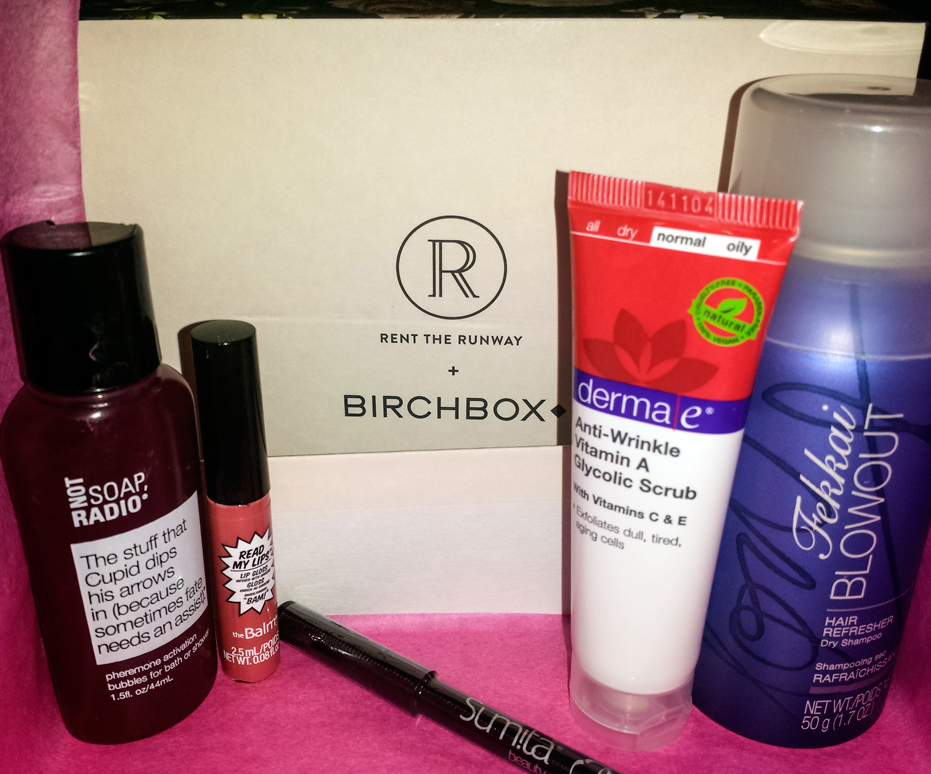 What's in the BOX:
derma e® Anti-Wrinkle Vitamin A Glycolic Scrub (full size 4 oz. $12.75) – I'm always here for facial scrubs. This one in particular is a glycolic scrub which is great for dark spots/hyperpigmentation/acne scars. I used the scrub and found it was creamy with small but effective micro-beads. It left my face smooth and it even smells good. Needless to say at that price, this is something I would definitely buy.

Fekkai Blowout Hair Refresher Dry Shampoo  (full size 4.9 oz. $20) – I've never gotten into dry shampoos so this will go into the giveaway box. It supposedly absorbs oil and deodorizes hair.
Not Soap, Radio Body Wash (full size 13.61 fl oz. $16) – This body wash smells really good. In light of Valentines Day I received it in, "The stuff cupid dips his arrows in (because sometimes fate needs an assist)." Basically it's blackberry and vanilla cream scented. Unfortunately, a lot of it spilled into my box during transport so I can't add it as a giveaway.
Sumita Color Contrast Eyeliner (full size 0.06 oz. $11) – This soft wax color contrast eyeliner is going into the box. It is navy blue (Raina)  and is long-lasting (so they say).
theBalm® cosmetics Read My Lips™ Lip Gloss (full size 0.3 oz. $15) – More tinted lip gloss in the color 'BAM!' – a deep rosy pink. The gloss is infused with ginseng and antioxidants. I'll also be adding this into the box.
This was clearly a box that filled the giveaway bin up a bit but the glycolic scrub makes up for it this time around.