GIVEAWAY UPDATE: Today is the last day to enter the BIRCHBOX Giveaway! The contest will end at 11:59 pm (EST).
I will email the winner on Tuesday, December 16 at 12 pm (EST). The winner will also be notified via social media (Twitter + Instagram). There will be a special bonus included in the giveaway…I hope you like to cook.
This box was a nice year-end wrap up.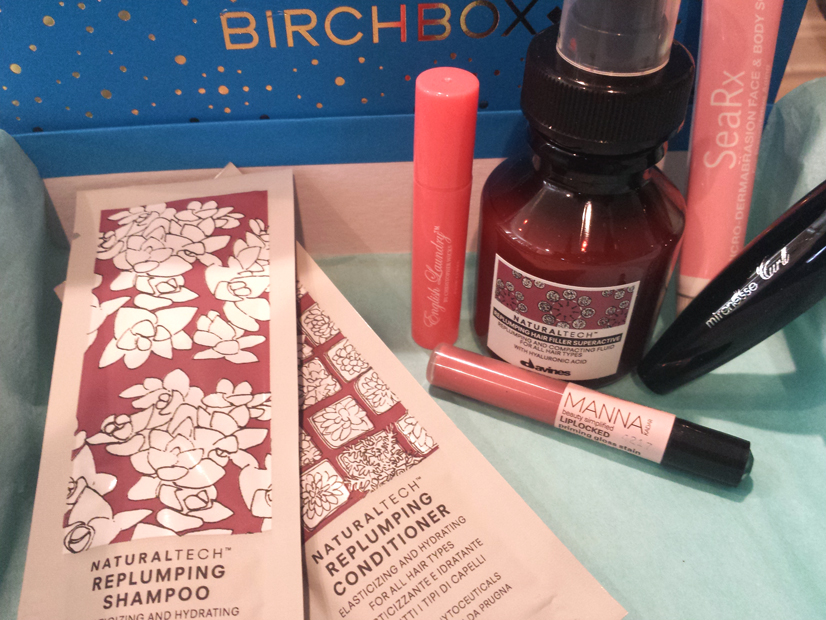 What's in the BOX:
English Laundry Signature for Her (full size 1.7 oz. $70) – For a floral perfume, this doesn't have an overpowering scent. It smells like the floral version of Viva La Juicy. It is a light and crisp scent that would work from day to night.
SeaRx Microdermabrasion Face and Body Scrub (full size 3.3 oz. $28) – This scrub was ok. The microdermabrasion scrubs I'm used to have a bit more grit to them and yield smoother results. I'd recommend this scrub to those with sensitive skin.
Mirenesse iCurl Secret Weapon 24 Hour Mascara (full size 0.35 oz. $29)
Manna Kadar Lip Locked (full size 1.2 oz. $24) 
Davines Replumping Shampoo (full size 250 ml. $25.50)
Davines Replumping Conditioner (full size 150 ml. $25.50)
Davines Replumping Superactive (full size 100 ml. $39.50)

The Davines Replumping line will be used once I untwist my hair but from the reviews and description I can't wait to use it. It promises moisture, elasticity, and strength so we will see about that.
Get your contest entry in while there is still time!