PSA before the Unboxing: It's time for the Spring BIRCHBOX Travel Pack Giveaway! All you have to do is enter by filling out the form on the next blog post (CLICK HERE) – that's it! Depending on how many items I stack up over time will determine the frequency of the giveaways. 2 winners will be chosen at random. The contest will run from Thursday, March 26 – Friday, April 3. I also will be holding an #AmazonGiveaway soon – I just need to figure out what to give away (comment if you have any suggestions). There will also be special bonuses for the winners.
With that being said…the March unboxing. For the sake of filling up the giveaway packs, most of this box is going to 2 lucky winners.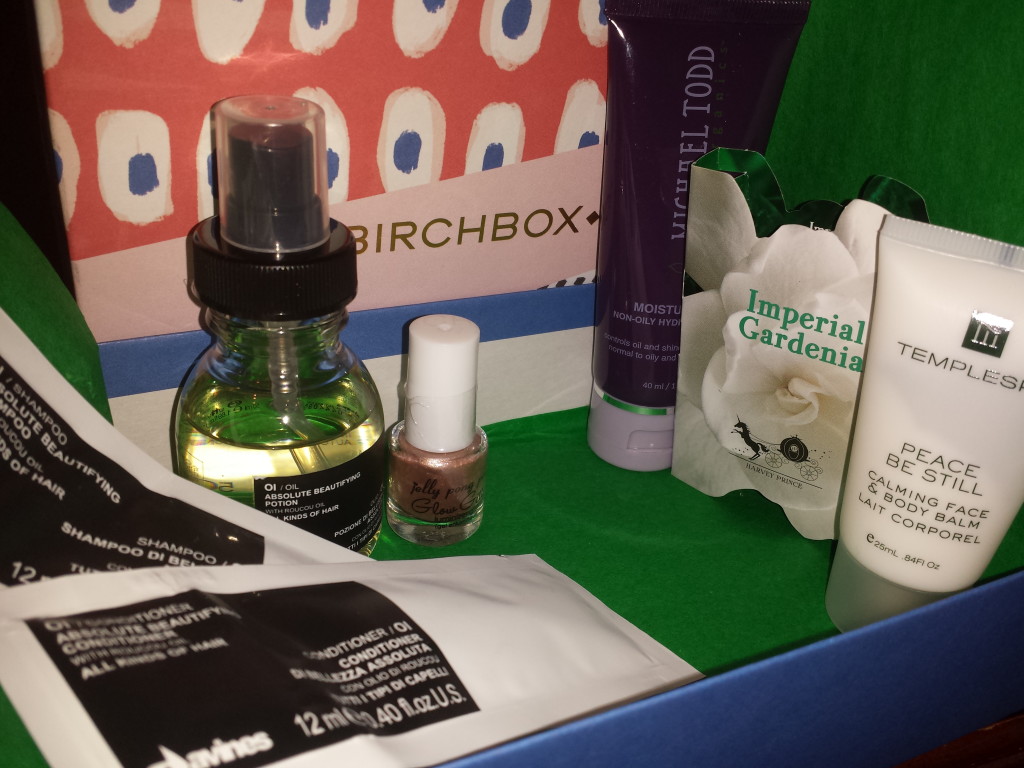 What's in the BOX:
Keeping
Davines OI/OIL Absolute Beautifying Potion  (full size 4 oz. $41) – Davines consistently has nice products. This serum is a keeper for sealing my hair; when I take down my twists of course.

Giveaway goods
Davines OI Shampoo + Conditioner – I want to keep these but away they go into the box.
Harvey Prince Imperial Gardenia – A very springy floral scent. Too flowery for me but it isn't annoyingly overpowering.
Temple Spa Peace Be Still Calming Face & Body Balm – I should keep this with the heat coming up BUT I'll be nice and share. This cream promises to cool/refresh the skin.
Jelly Pong Pong GLOW GETTER Highlighter – Thought this was a nail polish 😆 .It's actually a cheek and brow bone highlighter – bah!
Michael Todd Moisture Lite Lotion Non-Oily Hydrating Moisturizer
And that's it! Head over to the Giveaway post this Thursday, March 26 and enter to win 1 of 2 Spring BIRCHBOX Travel Packs.