*Contest closed…be on the lookout for the next giveaway*
All items pictured can be yours!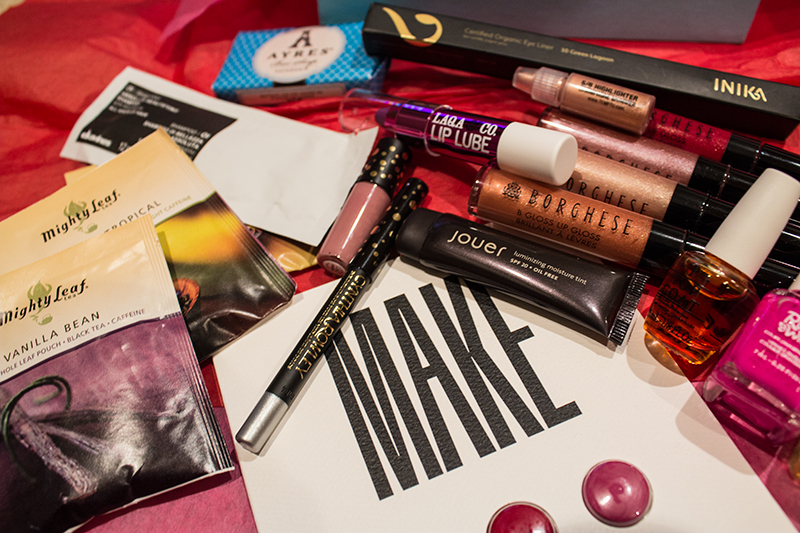 The contest will end on Monday, December 15 at 11:59 pm (EST). You may only enter once but share and tell as many people as you'd like.
I will email and notify the winner via Twitter or Instagram Tuesday, December 16 at 12 pm (EST).
This isn't a sponsored giveaway; it's more so the items throughout the year I had no use for and didn't want to waste. Learn more about BIRCHBOX by visiting www.birchbox.com.
What will be in the box…
(3) Mighty Leaf Artisan Whole Leaf Tea Pouches – Vanilla Bean, Organic African Nectar, and Green Tea Tropical
MAKE Sample Lip Palette – Lip Primer, Maraschino Cherry, and Magnolia
(4) Borghese Lip Gloss – Red Lustro, Apricotta, Celestial, Fiore
Laqa & Co Lip Lube – Purple
Ruby Swing – UV Color Changing Nail Polish – Hot pink/Red
Cynthia Rowley Eyeliner – Silver
Temptu Highlighter – Champagne Shimmer
Inika Eyeliner – Green Lagoon
O.P.I. Top Coat – I'm Never Amberrassed
Jouer Luminizing Moisture Tint – Bronzed
Ayers Bar Soap – Patagonia
Davines Absolute Beautifying Shampoo
Cynthia Rowley Creamy Lip Stain – Sugar
Antica Farmacista Body Wash – Bergamot & Ocean Aria