Christmas came early. The time has come for my end of the year BIRCHBOX Giveaway! The contest will run from Friday, November 14 at 12 pm (EST) to Monday, December 15 at 11:59 pm (EST).
I will email the winner on Tuesday, December 16 at 12 pm (EST). The winner will also be notified via social media (Twitter + Instagram).
Be on the lookout for the official entry form when it goes live at 12 pm TODAY!
This box was a 4/5 – literally. I will even dare to say that it's my favorite box this year.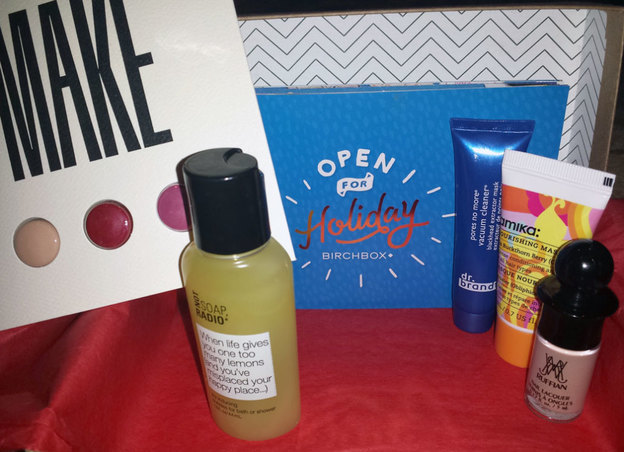 Join BIRCHBOX!
What's in the BOX:
amika Nourishing Mask (full size 250 mL $28) – Always can use a good conditioner. I'll give this a try once my hair is out of twists.
dr. brandt® pores no more® vacuum cleaner™ (full size 1 oz. $14.50) – I actually had a chance to use this face mask. It was ok being named 'vacuum cleaner' I was expecting a tighter feel as it dried but it wasn't. The mask goes on like lotion and dries to an opaque periwinkle. The result left my face smooth. At this price I'll stick to my bentonite clay masks.
MAKE Silk Cream Lipstick Set (full set. $36) – Do I even need to say it? Into the bin it goes!.
Not Soap, Radio Body Wash (full size 13.61 fl. oz. $16) – Can never have enough body wash. The smell is a very subtle lemon scent.
RUFFIAN Nail Lacquer – RUFFIAN Naked (full size 0.17 fl oz $10) – !!!! I wanted this as an extra a couple boxes back but it was out of stock (oos). Surprise for me this time around! I love nude/neutral polishes. This is a lacquer (lasts longer) which is a plus.
Chuao Chocolatier ChocoPod – Firecracker (full size Eight 0.39 oz chocolate bars $9.95) – This was a nice treat. Of course with any odd pairing of flavors I was apprehensive but was surprised I liked it. To me, this is a grown up crunch bar. The crunch fizzled like pop rocks and the chipotle flavor 'sizzles' along with the aftertaste. It isn't spicy but you get a slight peppery tingle.
Now go enter the contest to win!