I guess you can consider this box the mini spa collection. Only one complete miss (as of yet) will be going straight to the giveaway bin.
"Products I don't use will be combined into a GIVEAWAY. Why not? I don't like wasting things, but anyway."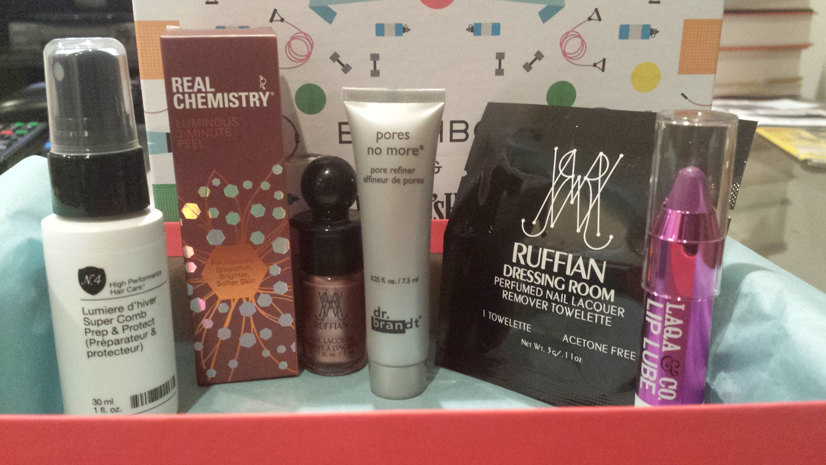 2014 July BIRCHBOX – Unboxing
BIRCHBOX
I actually used 3 of the 6 products (see below). My favorite would be between the Real Chemistry 3 minute peel and the Ruffian polish. All in all, not a bad box.
What's in the BOX:
Number 4™ Super Comb Prep & Protect 

(

full size 200 mL. $32

) – This is a spray liquid leave-in that supposedly detangles. I'll have to test it out this weekend. Based on how the Number 4 clarifying shampoo was, I think this is a keeper.

LAQA & Co. Sheer Lip Lube Pencil  (full size 0.07 oz. $18

) – Ehh yeah makeup…no. This is going into the bin. I received some purply-ish looking shade.

RUFFIAN Nail Lacquer – Rosary (full size 0.17 oz. $11

) – This was the first product I tried from the box. The color is a warm coppery-rose hue. It went on very smooth and thicker than your typical polish.

RUFFIAN Dressing Room Nail Lacquer Remover Towelettes (full size 0.11 oz./10 in a pack $12

)

 

– They could've kept this one. The concept of an acetone-free nail polish remover sounds nice but it took longer than necessary to remove. The scent was like a light Obsession. The towelette itself was pretty durable.

dr. brandt® pores no more® pore refiner primer (full size 1 fl oz.$45

)

 

– I used a bit of this with my normal moisturizer. My face didn't fall off overnight. It goes on smooth and doesn't have an annoying scent. But at that price I'll pass on purchasing.

Real Chemistry Luminous 3-Minute Peel

 

(

full size 1.7 fl oz.$48

)

 

– This was a lot different from facial peels that I'm used to. Rather than brushing it on and leaving it for a couple of minutes, you rub it onto your face. Even though the process was different it still worked really well. But again…that price.